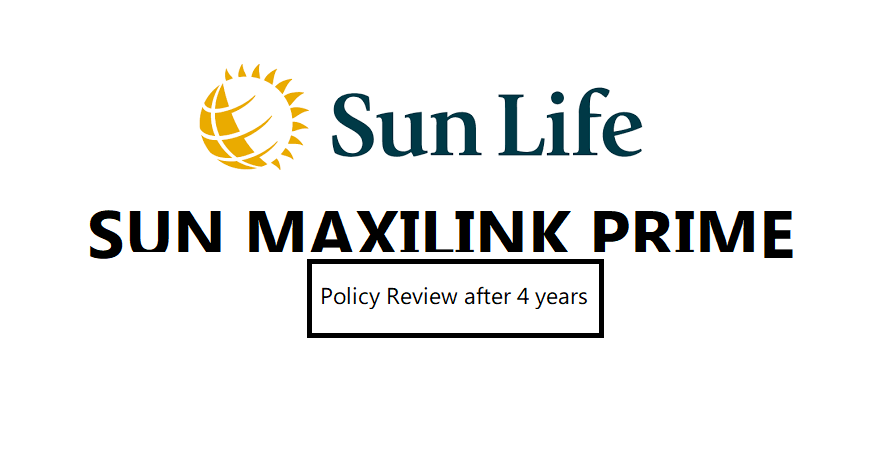 Sunlife Maxilink Prime Policy Review (Self Review)
With the overload of ideas and life hacks we stumble upon in our daily social media lives, we sometimes absorb these ideologies without doing enough research on our own. I joined a financial group on Facebook as an earning individual that aspires to expand her financial portfolio. While a member of this group, I bump into people surrendering their policies – not just any policies but specifically VUL (variable universal life) Insurance. After enough time lurking in the comments section and reading posts within the group, I concluded some members is against this type of insurance.
In a summary and from what I have read, the people in the group are against VUL and are pro BTID strategy. BTID is short for Buy Term, Invest Difference – the idea is instead of availing VUL insurance, you buy the term insurance that has equal/more coverage than VUL and invests the rest. And for those new to the VUL term, this type of insurance has a fund value that grows over time – this is also known as Life and Investment Insurance.
I got my policy year 2017, what I know after getting my policy is that I'll finish paying off my insurance after 10 yrs. From the group, I've learned that VUL insurance does not guarantee only 10 years of payment but a lifetime of payment – as-long-as-you-live-you-pay type of insurance. I've checked my papers and found out there is a clause there that says "Premium payment period of 10 years is not guaranteed. You may still be required to pay an additional premium after 10 years if the Fund Value is insufficient to pay the charges." And so it's true, this must be why Sunlife Advisors will encourage you to continue adding funds to your policy even after 10yrs – hearing this from them I have an impression that all these added funds will go straight to investment.
As a policy owner of VUL, this got me into thinking mode that resulted in a policy review. Looking at all the benefits and coverage of this policy, it still serves me well. For VUL policy owners reading this post, refer to your papers and check the last page entitled "Illustration of Benefits – Fund Equity (100%)". You can see there the range of fund value you should expect each year (with values of 4%, 8%, and 10% – these depend on the stock market movement). Earlier, I'd like to post my expectation fund value versus my current fund value but later on, I realize it should be private so I'll continue to just let you refer to your own papers. True enough, my current fund value is around the expected fund value not in 4%, not in 8% but in 10% earning. I am now in my 4th year with this policy compared to people surrendering their accounts in just 2 years (from the group), based on the same table they are getting the correct amount of money – in my opinion, this is a very wrong move. You ask why? Refer back to your papers, check the Policy Details pages (pages 1 and 2), you can see the charges there, the major charges are still up to the 3rd year. I'm not saying you should cancel after the 3rd year, but what I'm saying is that VUL is legit (so far, as I am getting results). Insurances may or may not cater to your needs and we have the freedom to research before availing. VUL is really a long-term commitment, what I'm thinking now is after 10 years I'll continue to pay the charges – so that the fund value is left untouched however that's too early to tell. For the yearly charges, you can refer back to the "Illustration of Benefits – Fund Equity (100%)" table and check the "charges" column and divide that to 12 if you wanted to pay monthly or just annually every December or best on your policy anniversary month (these are just on top of my head thoughts). But this is entirely up to your preference esp if the fund value is sustainable.
Also, VUL has a "partial withdraw" feature wherein you can withdraw money from your fund value amount if necessary. I guess this insurance policy is better than having nothing at all. If you start paying for your premiums, I encourage you to continue and see it till the end. Aside from you'll get less money if you terminate it, you will lose an opportunity for your future self and will just waste time. Your biggest asset is really your time, the earlier you start the better – as this also builds your habits. Anyway, these are just my thoughts and I'm in no way affiliated with Sunlife.
I am also open to the BTID strategy, in fact, I have a term insurance and a couple of investments as well. I might talk about them in my next posts.
From these data, Would I want to surrender my policy? As per my ending statement that would be a no.
Would I advise anyone to get VUL? Yes, if this caters to your needs. Talk to a financial advisor who can explain these thoroughly to you.
Welcome to my personal space. A young professional in the IT world. I am interested in finance, investment and a whole lot of hobbies.